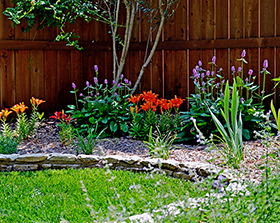 Design Services
We offer a wide array of landscape design services to our clients, whether it's a small residential landscape renovation or a full-scale commercial installation. Our staff has the knowledge and expertise to bring your landscape dreams into reality. We know that landscape projects aren't just about putting plants in the ground or building a patio for your grill and picnic table. Landscape installations are about improving and extending your living space, whether that's across the yard or right outside your back door.
From the initial consultation, through the installation phase and after the project is complete, our team will focus on listening to your needs They will ask the right questions and search for the right answers to match your vision to the finished product.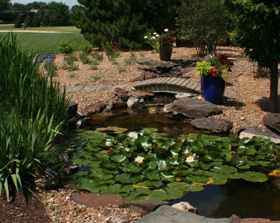 Our Experience
There's more than a century's worth of experience amongst our landscape and irrigation design team. They are experts when it comes to plants, trees, hardscapes and the latest in sprinkler system technology. The extreme Kansas weather, from scorching summers to freezing winters, requires carefully selected plants and trees. Our designers have an extensive background in north central Kansas landscaping — they know what grows here and will choose the best plant material for your site conditions.
In 2017, Landscape Consultants welcomed Gary Schooley to our design team. Gary is a registered landscape architect with more than 35 years experience. He has been involved in commercial, residential, health care, parks and recreation, federal, state, and university campus projects doing site planning, site design, landscape and irrigation design, and project management.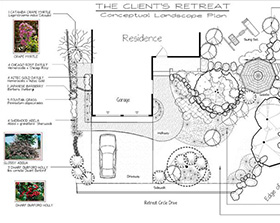 DynaSCAPE
We strive to keep up with the ever-changing trends and techniques within the landscape and irrigation industry. In keeping with this mindset, we invested in a CAD-based design software called DynaSCAPE Design. This program is aligned with green industry leaders and recognized by prominent landscape design schools.
DynaSCAPE gives our designers the ability to present professional, state-of-the-art landscape and irrigation plans. In the field of CAD landscape design software, DynaSCAPE Design continues to lead the way with a level of design quality that remains unequalled in the industry. The result is a spectacular, information-rich landscape design that is sure to impress.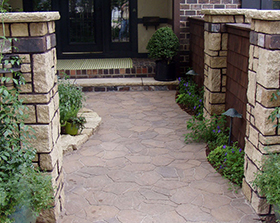 Patios & Walkways
Patios and walkways are an ideal way of bridging indoor living areas with your outdoor space. We can create a warm, private and functional outdoor retreat to fit your needs.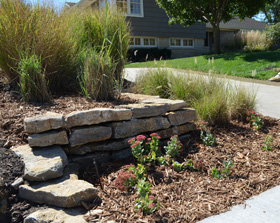 Landscape Installation
Once our talented designers have drawn up your plan, our experienced crews will bring it to life. No shortcuts here: the plant material we install is backed by up to a 2-year warranty.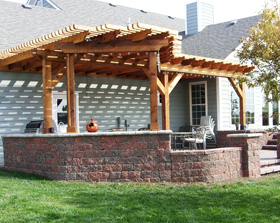 Construction
Help beat the Kansas heat with a custom-designed shade structure. Our master craftsmen will construct a beautiful, yet durable, pergola that will last for years to come.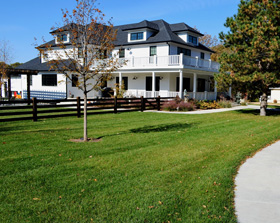 Turf Installation
We can start your lawn from seed or install a new lawn in just a day with sod. We offer warm and cool season grasses, including premium fescue, bermuda and buffalo.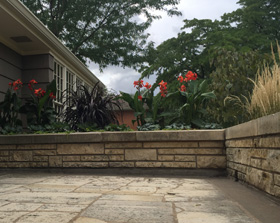 Retaining Walls
Retaining walls can be used to give support to vertically challenged areas, correct drainage issues or level uneven terrain so the area can then be used for other landscape needs.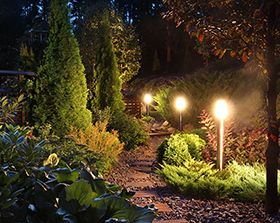 Outdoor Lighting
Illuminating outdoor spaces such as entrances, walkways, patios and decks can allow you to bring outdoor areas and landscaping to life after dark. Our designers use state-of-the-art, high-quality LED fixtures which can drastically reduce the power usage required by older or lower quality fixtures.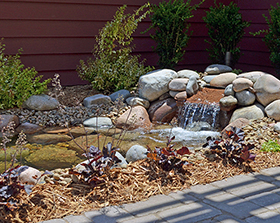 Water Features
A well designed water feature will add beauty, sound, peace and tranquility to any garden. Landscape Consultants can design and install a pond-less water feature, soothing stream, or waterfall pond to enhance your outdoor experience.